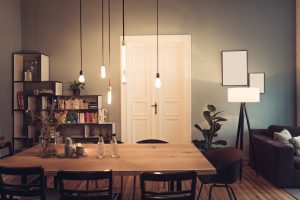 "A man's home is his castle". This statement has been around for a long time and will continue to hold true no matter where you may reside, whether you live in an apartment, a condo, a townhouse, a semi-detached home, a detached house, or a big "mansion" in the country. To you, it will always be "home sweet home". Your space could be 500 sq. ft. to over 10,000 sq. ft. No matter where you live, or what the size your dwelling is, you can design and decorate it into the "castle of your dreams". All it takes is time, some elbow grease, a creative imagination, access to great ideas and a budget.
Making Changes
To be able to customize your home within your own budget to a standard that will make you feel ecstatic about your surroundings is the objective when it comes to home décor. To wake up each morning in your own "piece of paradise" is the ultimate reward for taking on the amazing projects that you can find online, for inspiration or for step-by-step instructions. They can be found generally under design and décor and "do it yourself" projects.
The Possibilities Are Endless
From curb appeal to backyard magic to a balcony that looks like a piece of Versailles; from the foyer to the basement, customizing every room in your house is one of the most exciting endeavors you will ever embark upon. This exciting challenge is one that many people in the 21st century choose to take on, and the results can be absolutely stunning. Because of the vastness of the internet, there are so many ideas and instructions on how to "do-it-yourself" in addition to thousands of examples to choose from. The beauty of décor and design is that it changes and evolves with time, or it can be anything that you want it to be, although some styles such as traditional or Victorian (even the most current version of Victorian referred to as "shabby chic" remain more constant throughout the decades. From the more understated traditional to the latest in ultra modern, there is a style out there to suit everyone's taste and budget.
Recycle & Reuse
One of the popular techniques used in today's decorating involves some kind of recycling or repurposed furniture and accessories. There are many items that have been taken from the 70's that have been transformed into treasures that are both functional and beautiful. Paint and imagination are the two prime ingredients when it comes to this category of redesign.
Taking the Plunge
Whatever your preference, it is within your reach to create or recreate your living space whether you are going to do it yourself (known in the industry as DIY) or if you are going to hire some professional assistance. Transforming your home into a place that you love, that reflects your personality, and also one that has the atmosphere that you are looking to achieve is within your reach!